Past Events
Holiday Gift Making Party

Minneapolis Workshop
4301 Nicollet Ave. S.
Minneapolis, MN 55409

Friday December 7th, 2012
7 - 10 pm
Join us to make tasty, kitschy and functional gifts, including CHOCOLATE: Aaron Ridgeway will help you experiment, eat and learn about our favorite flavor!
JEWELRY: Kate Seaburg and Maggie Miller will help you craft incredible decorative jewelry and other one-of-a-kind gifts.
WOODEN GIFT BOXES: Willis Bowman will aid you build reusable boxes for your gifts like these AND make metal gift tags!
DESIGN YOUR OWN!! Our shop is your shop. Rummage through boxes, find recycled treasures and craft your own special gifts using our tools and helpful expertise.
$25 at the door, or register now for $20. Includes everything!
Land Speed Car Show

Studio Bricolage
1188 Hubbard Ave, St. Paul 55104
Saturday, October 13th, 2012
10 am - 4 pm
Free!

Join us on October 13th as we visit with land speed racers and get a guided tour of a real land speed record-holding racer built here in Minnesota. Ask race team-members all about what is involved racing with the "pedal to the metal" across a vast flat expanse of desert at well over 100 mph. We will be able to start the car and rattle your fillings! View in-cockpit videos of cars careening down the salt, as well as videos of other notable Speedweek activities. You may have been reading about this in hot rod magazines since you were young, and now is your chance to get some first hand knowledge and see what goes on close up!



________________________________________________________________

Arduino for Artists - new date!


Studio Bricolage
4301 Nicollet Ave. S. Minneapolis, MN 55409
Thursday, October 18th, 2012
and
Thursday, October 25th, 2012
both days from 7 - 10 pm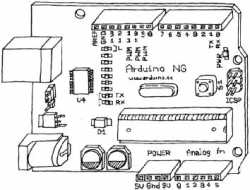 Note! This is a two-session class.

The Arduino is a small microcontroller that you may program to make your art come alive. Control movement (motors), sound (speakers) or sight (lights) of your art and have it sense and react to almost anything including temperature (thermocouple), light (phototransistor), touch (piezo sensor, button or load cell), and sound (microphone). This can add a new dimension to your work that travels beyond the fourth dimension, constrained only by your imagination!
In this class you'll make simple electrical circuits on a breadboard, program the Arduino using open source software, and learn how to control motors, lights and relays and make the Arduino react to inputs like switches. You'll be quite amazed at what this thing can do!
Because the Arduino is a popular device there are oodles of great information and help on-line. You needn't have computer programming knowledge but you do need to know how to use your computer for everyday use. Windows, Macs and Linux can all be used with the Arduino and software. Please bring a laptop if you have one and we'll have some desktop computers to use. At the end of the classes you will have a working Arduino and a decent understanding of how to use it to help your art interact with the environment.
This is a two session class, Thursday 10/18 (7-10) and Thursday 10/25 (7-10)
Class Cost: $165 (includes Arduino board), or $135 (if you already have an Arduino)

Class size limit : 12


Kitchen Kemistry

Studio Bricolage
4301 Nicollet Ave. S. Minneapolis, MN 55409
Friday, October 5th, 2012
7 - 10 pm


Believe it or not your kitchen and basement shop are full of chemicals that can do some interesting things when mixed together. No, nothing to blow up!... but anything from the classic baking soda and vinegar foam, to glowing easter eggs, to vanishing styrofoam right before your eyes. We'll have extra material for you to play with. Do you have a fun experiment you'd like to show us? Let us know and we'll make room for you!
Fee: $15
________________________________________________________________
[ YOUR MESSAGE HERE ]

Leonardo's Basement
4301 Nicollet Ave. S. Minneapolis, MN 55409
Saturday, October 6th 2012
Adults / 1 - 4 pm
Teens / 7 - 10 pm
Sunday, October 7th 2012
Families / 11 am - 2 pm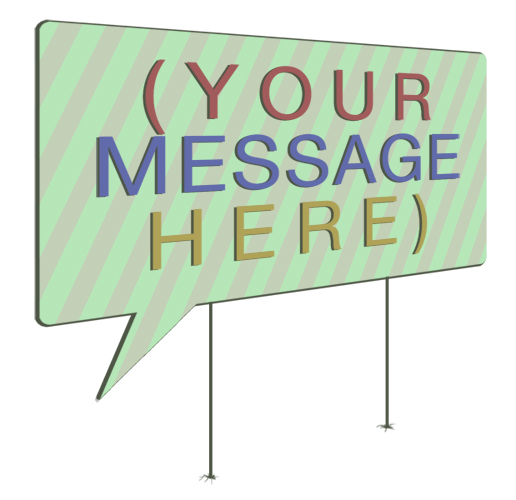 Leonardo's Basement wants to encourage speech and spice up the election with a workshop to help people create new imagery for lawn signs!
Reusing our cache of 24 x 18" pvc lawn signs, Adults, Teens and Families are invited to rethink, rephrase and recreate signs.
Make a new phrase! Make an image! Make a sculpture!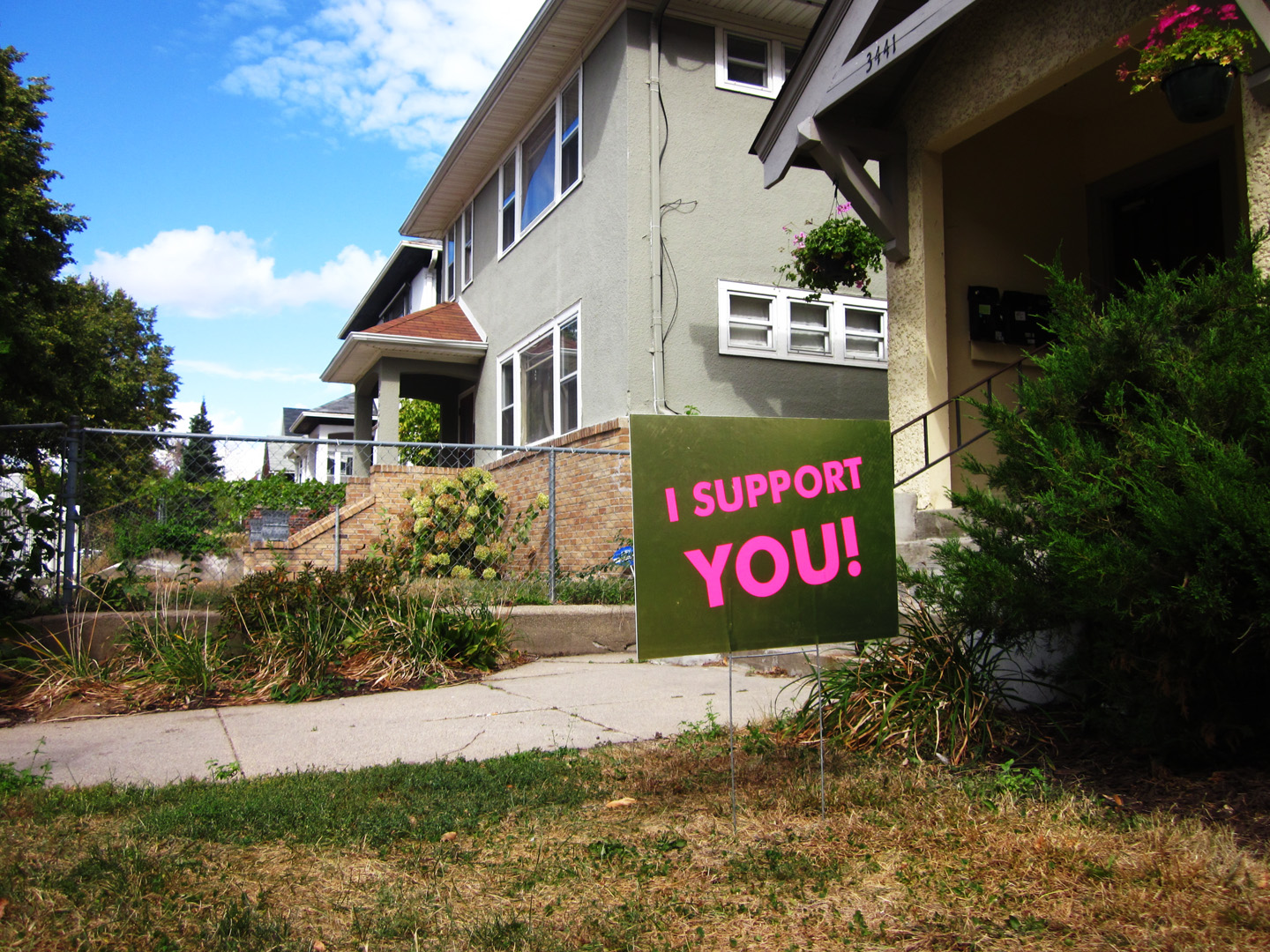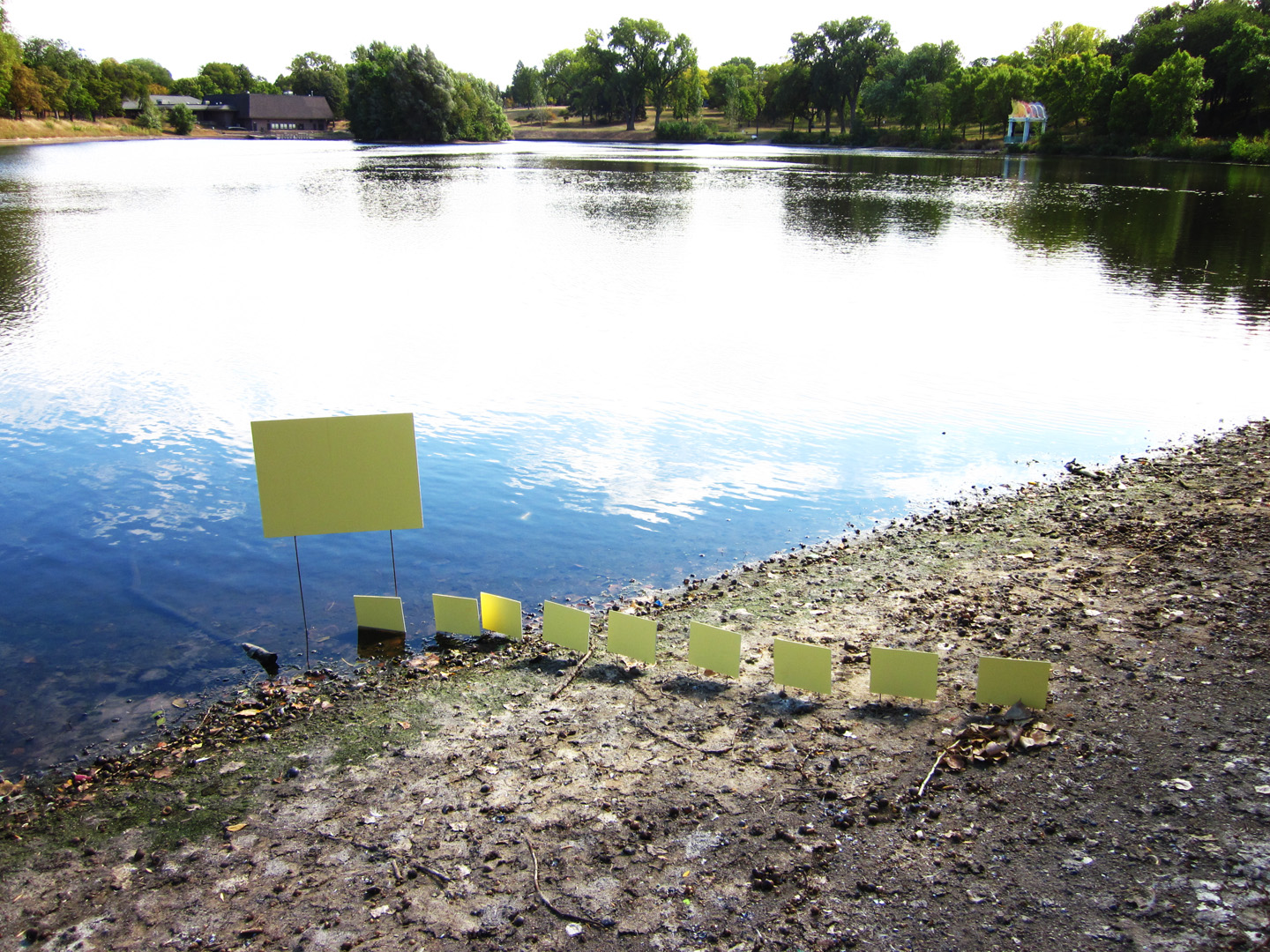 Participants will employ a variety of techniques for painting, cutting and altering the signs to make artistic, political, clever, anti-political and inspirational messages.

We'll assist you in using stencils, laser-cutting, hand-painting, screenprinting, sculpting and other techniques.
the [YOUR MESSAGE HERE] event is

FREE

, like Speech.
We have three separate times for the event:
Adult workshop / 1 - 4 pm
Teen workshop / 7 - 10 pm
Family workshop / 11 am - 2 pm
at
Leonardo's Basement
4301 Nicollet Ave, Minneapolis, MN 55409


________________________________________________________________




Piano 2 - Field Trip to Ackermans Piano


Studio Bricolage

4301 Nicollet Ave S, Minneapolis, MN 55409
Saturday September 22nd, 2012
10 am - 1 pm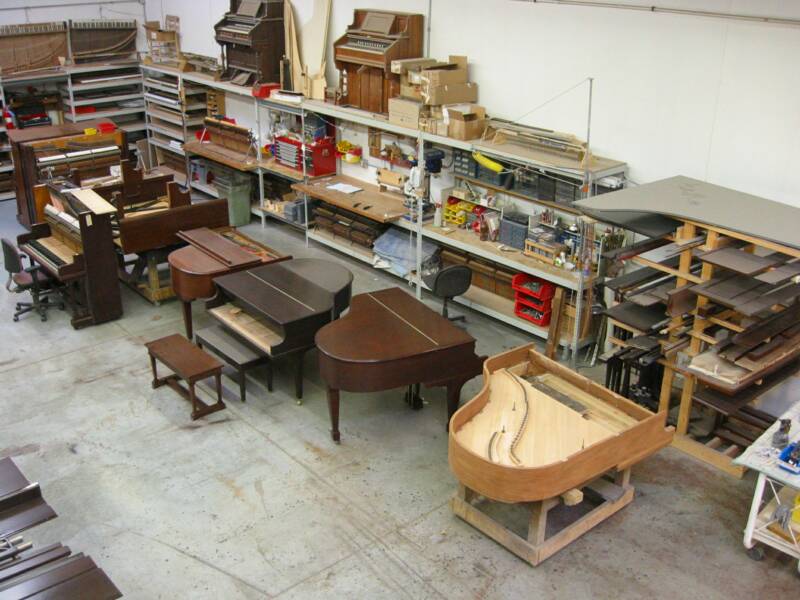 In the second of three sessions, we'll take a field trip to Ackermans Pianos in Lakeville. Ackermans has been in the stringed instrument restoration business since 1895 and this tour will take us deeper into this fascinating corner of technology. They also have a long history of restoring fire-damaged pianos!

We will carpool to Ackermans Piano from Leonardo's Basement in Minneapolis at 9:30 AM (You can contact us about details or drive yourself, click here for a map to Ackermans).

________________________________________________________________




Piano 1 - Piano Forte!


Studio Bricolage

4301 Nicollet Ave S, Minneapolis, MN 55409
Saturday September 15th, 2012
1 - 3 pm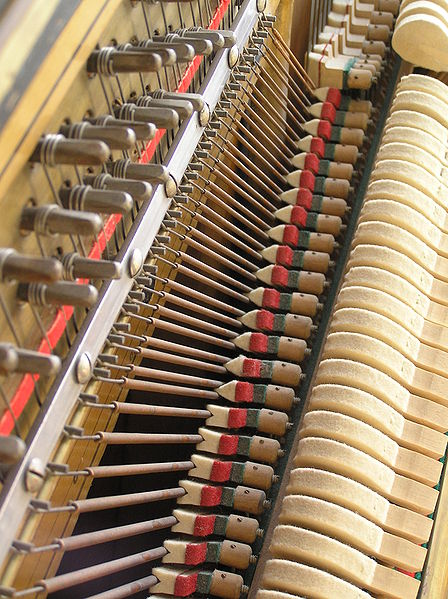 In the first of three sessions we will look at 3 upright pianos and discuss their wonderful inner secrets. We will give you some useful knowledge should you wish to "adopt" an upright. This session should be fascinating to players and non-players interested in applied technology/physics. We will learn a little about tuning and attempt it!
________________________________________________________________
Art Welding

Studio Bricolage
1188 Hubbard Avenue, St. Paul, MN 55104
Saturday, September 8th, 2012
1 - 4 pm

Welding One-oh-Wun

Studio Bricolage
1188 Hubbard Ave., St. Paul, MN 55104
Saturday August 18th, 2012
10 - 2 pm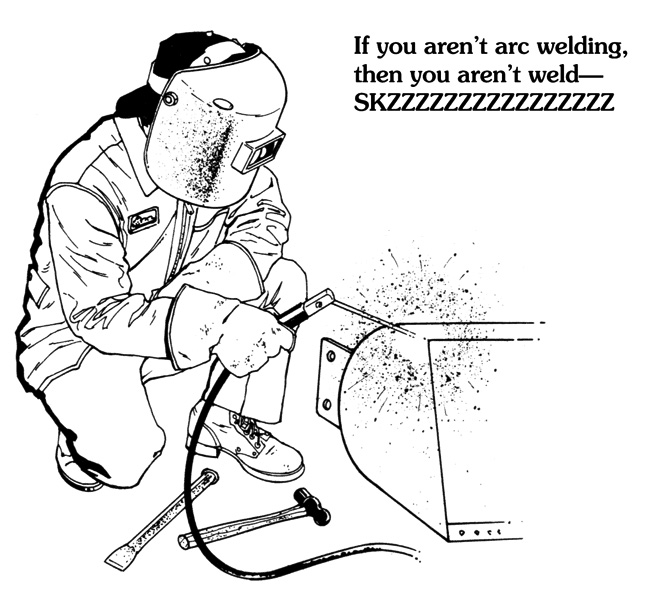 Never tried welding but are curious about it? Come to a hands-on demo of different types of welding. Bring that busted lawnmower and we'll let you have a go at fixing it. We will have oxy - acetylene (welding, brazing and cutting), MIG and arc welding machines as well as a plasma cutter. Grab some scraps of steel from our scrap bin and after a bit of coaching try it for yourself. $10 gets you in the door. Wear your grubby clothes; we will supply all the necessary safety equipment.
Personalized Water Spitting
Studio Bricolage, 4301 Nicollet Ave. Minneapolis
Friday May 18th, 2012
7:00 - 9:00 pm
and
Saturday May 19th, 2012
1:00 - 3:00 pm
You need one of these in your yard! And two days to make one. Your face? A friend's face? Your dog (if she will sit for casting)?! Don't want your face in the fountain? A foot, hand or other body part will do. On Friday you will make a cast of your face with
alginate
, cast the concrete and do some prep work. On Saturday you'll uncast the concrete and hook up the pump and test your new fountain. You'll leave with a pump, the cast concrete "spitter"(your face?) and the required plumbing. If time is available you can make a stand to hold it. Stop by Leonardo's Basement, 4301 Nicollet, to see a sample! Click the button below to sign up. Maximum of 12 fountain makers. $135 includes the two days of instruction and all the materials.


Intro to Blacksmithing
Ivy Building, Live Oak Ironworks, 2712 27th St. E.
Minneapolis 55406
Saturday May 19th, 2012
10:00 - 4:00 pm
Gain a basic understanding of the metallurgy of steel and how to work with it. You will learn a bit of welding and a number of forging techniques. By the end of the day you will have learned how to draw metal, smooth it out, make a scroll and a twist utilizing a variety of metalworking tools, from an anvil and forge to a mechanical treadle hammer. You will go home with a large plant hook that you have made. This metal tease will compel you to return for more forging and welding. More photos
here
. All abilities are welcome. Limited to 5 hammer-wielding student. $90 includes all materials. To register click the button below:
Special Talk about Hugo movie and automaton repair featuring Andrew Baron
Hopkins High School, 2400 Lindberg Dr.
Minnetonka, MN 55305
Friday May 4th, 2012
7:00 - 9:00 pm


NOTE: This is NOT a Studio Bricolage event but we think it's interesting enough and love all things automaton. The Midwest Watch and Clockmakers Association presents
Andrew Baron
, a pop up book expert and designer who was commissioned to restore the legendary
Maillardet's Automaton
which was featured in the Academy award winning movie
Hugo
. Over 100 cams direct the automaton to draw 4 complicated drawings and 3 cursively-written poems. Come hear from the person who restored the automaton in 2007 for the Franklin Institute in Philadelphia. This talk is for all ages and non MWCA members.
Also note that there will be an in-depth, more technical presentation by Mr. Baron on May 5th for MWCA members. Please visit
here
for all the details on the two talks and how to join MWCA.
Advanced Blacksmithing
Ivy Building, Live Oak Ironworks, 2712 27th St. E.
Minneapolis 55406
Saturday April 28th, 2012
10:00 - 4:00 pm
In this advanced blacksmithing class we will continue with the skills learned in the introductory class. Work on technique, as well as introduce a few more skills, including flaring (spreading) the steel and punching and drifting holes through hot steel, a process required for traditional joinery. As with the earlier class, you will leave with a completed item to take home. Prerequisite for this class is having taken the Intro to Blacksmithing class or by permission of the instructor.
NOTE: You must bring durable, non-flammable clothing that you do not mind subjecting to wear and tear, ear plugs or ear muffs, safety glasses, closed-toe shoes, long sleeved shirt and leather gloves. All building equipment and materials will be provided. Please register below:
TIME: A night of watch and clock repair PART 2
Studio Bricolage, 4301 Nicollet Ave. S. Minneapolis
Friday April 27th, 2012
7:00 - 10:00 pm


Many thanks to these Midwest Watch and Clockmakers Association members Stew Leleivre, Wes Cutter, Susan Wood, Fred Shahen and Mark Purdy who showed us the ins and out of clock repair. This is a continuation of the night of watch and clock repair we held last November. We didn't give Wes Cutter, clock repairer extraordinaire, enough time last time so now you can explore more in depth the intricacies and the miracle of the clock. You will have the chance to take apart a complete clock movement under the careful guidance of Mr Cutter and Stew LeLievre. You need not have attended PART 1 to enjoy this one! As before, if you wish a free consultation for a watch or clock you'd like cleaned or repaired please bring it. This is a free event but is limited to 18. Please register below:
Bird Abodes
Griggs Rec Center, 1188 W. Hubbard Ave.
St. Paul, MN 55104
Saturday March 24th, 2012
1:00 - 3:00 pm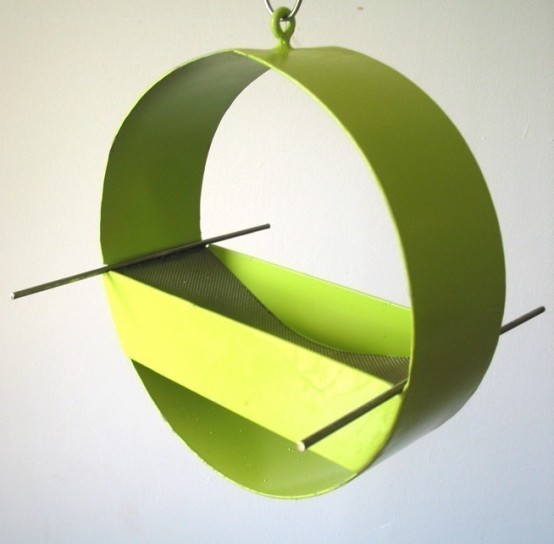 Spring came waaay too early. But, let's not forget our feathery friends. Help make houses for the birds. Or, make feeders for the birds (and the squirrels). We'll provide tools and materials and ideas for projects that will attract the best of birdy friends.
Don't want one for your house? We are also building a dozen houses and feeders to leave at Griggs Park, home for the Leonardo's Basement Saint Paul workshop. We are looking for exotic designs and brilliant colors - artful abodes for flying friends.
Click the button below to register. $30
NOTE: No charge if you leave a house for us!


Intro to 2D CAD (class)
Studio Bricolage, 4301 Nicollet Ave. S. Minneapolis
Thursday February 16th, 2012
7:00 - 10:00 pm


CAD (Computer Aided Design) is a powerful software tool for drawing and is paramount in engineering, architecture and product design. It comes in two flavors: 2D and 3D. CAD doesn't necessarily replace hand drawing and sketching but allows for fast and clear iterations. No eraser mess!

This software not only allows you to design and print your design on paper but is used to manufacture things. You can send the data file of your design to a CNC (computer - numerically control) machine like a laser engraver, 3D printer, cnc router, cnc sewing machine, cnc linoleum tile cutter, etc.

Another use of CAD isn't in the technical realm but as an art form. CAD programs let you draw complicated or freeform lines and shapes and change any or everything in the blink of an eye without redrawing the entire page.

In this class you will learn the basics of 2D CAD drawing using a FREE and powerful CAD software program called DraftSight
www.draftsight.com
(Mac, PC, Linux). At the end of the class use our laser engraver to burn or cut your design into something. Click the button below to register for the class. Limited to 10 students. $50.
Welding Wun - Oh - Wun (hands on demo)
Griggs Rec Center, 1188 Hubbard Ave. Saint Paul MN 55104
Sunday February 12th, 2012
10:00 - 3:00 pm


Never tried welding but are curious about it? Come to a hands-on demo of different types of welding. Bring that busted lawnmower and we'll let you have a go at fixing it. We will have oxy - acetylene (welding, brazing and cutting), MIG and arc welding machines as well as a plasma cutter. Grab some scraps of steel from our scrap bin and after a bit of coaching try it for yourself. $10 gets you in the door. Wear your grubby clothes; we will supply all the necessary safety equipment.
If there is enough interest we will run a comprehensive class in welding at a later date.
Annual Winter Party (All ages!)
Griggs Rec Center, 1188 Hubbard Ave. St. Paul MN 55104
Saturday February 4th, 2012
1:00 - 4:00 pm
Despite and because of the lack of snow and ice, this crummy winter won't stop us from having a hot time. Come for
hot
cider,
hot
fudge and ice cream,
hot
air balloons,
hot
marshmallows and more. Wintery fun for everyone. The (newly graffitied!) skating rink is open so bring your skates and also your sleds to go down the ultra-steep hill. Play shuffleboard on ice. Make hot air balloons inside the large Wonder Bread bag workshop then launch them outside. Make your own winter wonderland with two snow-makers built just for this occasion.
Rube Goldberg Machine V
Studio Bricolage, 4301 Nicollet Ave. S. Minneapolis
Friday January 6th, 2012
7:00 - 10:00 pm
M.A. Sets Off a Rube Goldberg Machine: MyFoxTWINCITIES.com
Join us for an exciting evening constructing a causation machine that
starts
with a glass of milk causing individual mechanisms to whisk, boil, stir, whip, pluck and glaze and
ends
at the oven where chocolate chip cookies will slide onto the rack before the oven ignites.
Of course we will provide many materials and most tools that you may need. Extra bonus points if your contraption includes food items! You are encouraged to bring a partially or fully complete device. You are also encouraged to invite friends, co-workers or complete strangers.
We'll supply you with a 16" x 32" plywood plate on which you can build your link. You aren't required to use it but it's real convenient to build and move around on!
Never done this before? All the more reason to show up. If you have an idea but don't know how to make it work, our chef engineers will help you get your idea into the mix and working before the dinner bell. Here's a little riff on Bill Shakespeare's Macbeth by another Bill had he been pondering Rube's devices.
Wingading, and wingading, and wingading,
Leaps in this lively dance from point to point
To the last link of connected chain,
And most our past attempts have humbled us
With gizmos that went wrong. On, on, fleet whimsy!
Rube's but a night's diversion, an awkward 'bot
That huffs and puffs his minutes of renown
And then is disassembled: it's a cascade
Made mad by jokers, full of clicks and whirs,
Signifying nothing.
-Bill McTeer
Hacking the Kinect
Studio Bricolage, 4301 Nicollet Ave. S. Minneapolis
Friday December 2th, 2011
7:00 - 10:00 pm

The
Kinect
, a motion sensing input device and Microsoft product originally developed to play interactive video games, has been hacked for far more mercurial purposes. Instead of just controlling sprites on a screen you can control almost anything on and off the screen using your body or anything moving as an input. Lucky for us the Kinect may be programmed through a variety of software languages, of which Processing (Arduino) is used. Come for an intriguing evening to find out what this product can do with our guest artist Anthony Tran.
Anthony Tran is a new media artist exploring the convergence of the physical and virtual worlds through 3D technologies and electromagnetic space. He recently graduated from Macalester College where he studied Cognitive Psychology and Computer Science. He now also works as a web developer in Minneapolis. In his spare time, he likes to VJ and hack electronics.
He has participated in Northern Spark with his
Security Gate 26.11
[2011], at the Soap Factory's WORKHORSE showcase with an installation called
Touch Screen
[2009] and at the Walker Art Center's Open Field with
unregulated radio: the promise of the democratization of media
[2010]. He is currently a Northern Lights' Art(ists) of the Verge fellow, where his next installation will be utilizing a Kinect, live 3D projection mapping and a radio frequency sensor. This fellowship will result into a month long exhibition at the Soap Factory, March 2012.
See his work and videos at
www.ioioio.cc
and
vimeo.com/nart
NOTE: If you are a Kinect hacker and want to show us what you can do
let us know
and we can find some space for you! Click the button below to register:
Introduction to Blacksmithing
Ivy Building, Minneapolis
NEW INTRO CLASS ADDED! Saturday, January 21st, 2012


You keep asking and we keep delivering. Come pound on some yellow-hot steel and make something brilliant. It's a great way to get your frustrations out, learn something new, and make a nifty piece of steel. To register click the button below:
Here's a slideshow of a previous class. All abilities are welcome.



TIME: A night of watch and clock repair
Studio Bricolage, 4301 Nicollet Ave. S. Minneapolis
Friday November 4th, 2011
7:00 - 10:00 pm

NOTE: This is a long video
(27 minutes)
. After 2:08 is Stew's explanation of how to disassemble a watch.
Have you ever thought about this crazy concept humans have invented called time? Come see and participate in an interesting night of watch and clock repair. Our instructors, Stew Lelievre and Wes Cutter, will show how to and let you take apart and reconstruct a watch. You will be able to see what they are doing with a close up video camera. See what kind of instruments they use and witness a jeweler's lathe in action. You'll have the opportunity to tinker with and understand a clock movement. Also join in a mind-boggling discussion and explanation about the history of time and how it has shaped the world culture and how it controls most of your day and night.
This is FREE event but is limited to ten attendees so that you will have a chance at operating on the watches and clocks. Tools and instructors are limited!
As a bonus, you may bring a clock or pocket watch for a free assessment!
Land Speed Racing at Bonneville!
Griggs Park, St. Paul
Saturday October 15th, 2011
12:00 - 4:00 pm


Saturday, February 19, 2011, 10:00 am
This was not one of those ho-hum whip-through-the building tours! Nope. Because we are special, we got the behind the behind-the-scenes tour. Tom Truax, Master Carpenter at the Guthrie, who knows all the nooks and crannies of the huge theater led us in, under and on the stages as well as the scene shop, the scene paint shop, the costume shop and the prop making shop. Also thank you to Jeff Borowiak, carpenter and rigger in the scene shop and Lana Aylesworth, lead tour guide who answered our never-ending questions. The Guthrie Theater is an extraordinary building seen from the inhabitants point of view.
In
Let's go Go-Carting! Mid-March, 2011
This is an
adults-only
event to drive professional go-carts at eye-drying speeds.Interested?
Let us know
. We'd like to rent the entire facility for this event. To help us plan (and figure out how much or little to charge!) please answer these questions:
1) Would you prefer to visit the Maple Grove, Burnsville or either location?
2) We can race for one hour or two. Do you have a preference?
3) We can keep the cost down if you can meet during the following times. Cost depends upon the number of racers. Estimates below are for between 25 - 50 drivers. Please tell us when you are available.
Monday – Friday: 4:00 or 5:00 – 6:00 pm (Approx. $20-30 for one hour/$30-55 for two)
Monday – Thursday: times between 6:00 pm – 11:00 pm ($25-40 for one hour/$40-75 for two)
Saturday: times between 11:00 am – 6:00 pm ($25-40 for one hour/$40-75 for two)
Sunday: Noon – 10:00 pm ($25-45 for one hour/$40-75 for two)
Driving CATERPILLARS Summer 2011
You're in for a treat on this one. We've commandeered a real backhoe and bulldozer to play on! You'll get a crash course of which levers to push and pull (there are a lot of them) and pedals to step on. Then you can dig a huge hole or push dirt around. Interested?
Let us know
.

Studio Bricolage will happily arrange experiences that you can't find at any other place (that's our charter, by the way). Let us know what you think about the trips mentioned above. Do you know of an obscure or ultra-fascinating place that people would like to see?

Do you have an idea for something that you'd like to learn about or build

?

Tell us about it! Check back later to find out where we are going!

Join the Studio Bricolage Facebook Fan Page and be the first to hear about events and classes/workshops!

Annual Gift Making Night (or "It's a Metallic Christmas!")
Friday, December 3, 2010 7-10 pm
4301 Nicollet Ave. S., Minneapolis
Holy cow was that ever a fun night. A whole bunch of metal-related things to make. But at the top was the aluminum pour. See the slide show below. Thanks to
Asia Ward
,
Sara Hanson
, Greg Meyers and Ted Goessling for showing us how things are done!
Fountains, rain barrels, sprinklers and big squirt guns - May 7
We had a lot of fun messing with water on a soggy, rainy night. Couldn't make the First Friday but want to make one of those big squirt guns? Click
here
for instructions and supply list. They are called Waterzookas from
Funtelligent
.
First Friday Building Party - April 2 Glass with

guest artist Margo McCreary.


We learned how to cut and break glass just like the hardware store folks do; we etched glass the simple way and made fake sheet glass like in the movies. We also had a crackin' good time making glass bead -- using a torch! Here's how our night went:
let's get small, real small: microscopic projects
FRIDAY, MARCH 5

Check out the fun we had creating photo and video micrographs on a USB microscope, designing small art on big balloons, lasering impossibly small things with the laser engraver and more!


------------------------------------------------------------------------------------

The MIXOLOGY Series at Bradstreet Craftshouse was a great success. Take a look below at the MIXOLOGY 3 festivities and read Randy Hanson's well-written account of the day called Summit Sips. We couldn't have written it better!
It is an ongoing collection of musings about recipes, techniques, tools and other cocktail-related topics.
.


-----------------------------------------------------------------------------------------------

Take a look at the photos from the 3rd annual Ice Sculpture Party held at Griggs Park in St. Paul. Wow, what a turn out with lots to do.

-------x
-------x
-------x
-------x
-------x
-------x
-------x
-------x
-------x
-------x
-------x
-------x
HEY! Check out these great animated Gifs (simple stop-animation movies) made at the Gif It Up! class held on February 9th.

-------x
-------x
-------x
-------x
-------x
-------x
-------x
-------x
-------x
-------x
-------x
-------x
Lamp Making workshop In mid-January we let folks who were enticed at the Lamp Making First Friday to come and play around with some other ideas. For two nights, bricoleurs ripped apart old lamps and re-purposed them into magical light-emitting devices. It was a lot of fun to explore! See below...




-----------------------------------------------------------------------------------------------

See what the Star Tribune has to say about Studio Bricolage.




And check back for future class offerings.
FIRST FRIDAY 7-10 PM DECEMBER 4
Holiday Party & Gift Making

It was a great evening of making fun food and gifts. From spin-art crepes, laser etching Rice Krispie bars bricoleurs created custom cookie cutters & heat-driven turbines. Check out the excitementhere!
Do you like this whipped-cream powered rocket ship? Do you want to make a video like this? Hey, we're offering a classto teach you just that.

November 6
Performance Sculpture: Kinetic Art
was the theme with guest artist Tim Fort who taught us how to build chain-reaction wonders that explode, collapse and amaze. We also dove into the world of slow moving motors and wind powered devices. There's even the world's first wax-powered clock. Here are more
videos and photos
than you can shake a sculpture at. Tim's website is at:
http://www.lunatim.com/kinart/kinetic.shtml
October 2 LAMPS!
We had a blast making all kinds of lamps and with a impromptu photo studio we bring you these
pictures
.
August 15 1st Annual Canoe Float Parade

A flotilla of creatively fashioned "floats," built upon canoes, navigated the seas of Lake of the Isles.There was an incredible procession of inspired constructions, including a huge galleon, human-powered paddleboat, a tiger in its native habitat, a 40-foot tower with surprises, a rocket ship, and the grand sculpture "Bohemoth!" See all the action here.
Thanks to Schafer Richardson Real Estate for donating machine shop space for building.
July 19th Lake Calhoun Shark!!


On Sunday intrepid Bricoleurs braved the icy waters of Lake Calhoun trying desperately to escape the gnashing jaws of a 160'- long shark!
Frightened onlookers marveled at the fin and enjoyed the incredibly loud "Jaws" theme music.
To see more shark photos bite
here
.
June 5 "NO PRESSURE, AIR PRESSURE"

We built a giant, round air hockey game, used compressed air to blow up thin rubber goods and explored pneumatic tool use. We also created incredible paintings by blowing paint through straw and we made blow guns and shot targets.Photos of the windy night !
May 1 LAWN ART We created spectacular lawn art, including wind turbines, chimes, mobiles, Tibetan flags, bird feeders and totems.
Look at the pictures from the lawn
April 3
PAPER BUILDING
In April, local artists
Margaret Pezalla
and
Westy Copeland
as well as other Makers showed how to make beautiful paper art. We made paper automata, built mathematical structures, cut with the laser, weaved beautiful paterns, created amazing colorful surfaces and "sewed" kraft paper suit jackets, vests and hats. It was an amazing "flatland" evening.
Look at this Slideshow
of amazing paper work.
March 14 Make:Day at the Science Museum of Minnesota. Studio Bricolage had a fantastic presence with the Paint Pendulum and the Dryer Orchestra. The folks at Make:TVpartnering with the Science Museum kicked off what is hoped to be an annual event. Take a look at a slide show.
March 6
Second Annual Rube Goldberg Machine Building Event
Take a look
at the slideshow, and check back to see this years video.
February 8 First annual Ice Sculpture Potluck at Lake of the Isles

Thanks for coming!

It was held on the East side of Lake of the Isles by the ice skating rink

People made and played with ice and brought it to sculpt with. It was free and it was fun! We have instructions for
making ice here.
January 2 High Voltage an evening in 20,000 volts!

- Building Jacobs Ladders

- Lighting up wood and drawing with electricity!

- Making Fluorescent Sculptures

"Uber Tuber" Making fries fly!

A crew from TPT's new television show MAKE:television filmed the amazing spud into french fries invention.
Watch the video.